LGBTQ History Comes out of the Shadows, into K-12 Classrooms | San Jose Inside
:
LGBTQ History Comes out of the Shadows, into K-12 Classrooms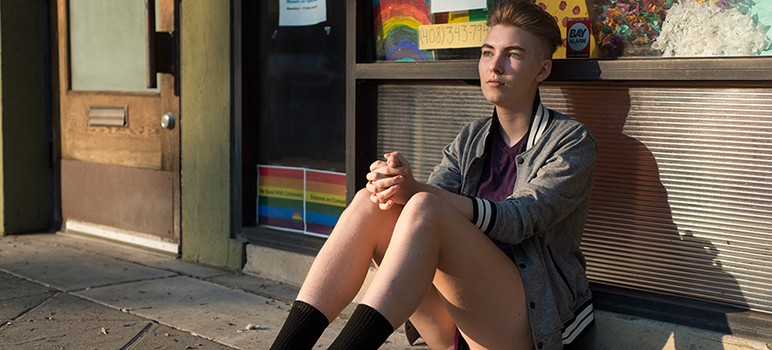 Forest Stuart didn't have many resources to learn about LGBTQ history in high school, but future students will. (Photo by Jessica Perez)
Certain topics were off limits when Forest Stuart attended high school. Civil rights were covered, but rarely did classes take a deep dive into the contributions of minority communities. Stuart first learned about the
LGBTQ
community from Tumblr. One teacher, however, a field hockey coach at Monta Vista High School, encouraged Stuart to learn about the group's history and other topics deemed too risque.
"She was always really great at bringing in the history of minority groups that are usually lost or not discussed in class," Stuart says. "The other teachers covered little to nothing."
Stuart identifies as trans, non-binary and queer. Family was supportive from the start, beginning when they—Stuart uses "they/them" pronouns to identify as both masculine and feminine—started to question gender and sexuality in middle school and high school, all the way through coming out last year.
"[My family has] been really receptive in me teaching them and bringing them up to speed on all the terms," Stuart says.
Not everyone has been so supportive, though. Stuart faced harassment from some classmates on social media after becoming heavily involved in the Gender Sexuality Alliance (GSA).
"The general school population who was vocal was really accepting and excited for me, and that was nice," Stuart says. "Being pretty out there and outspoken meant that whenever people could voice their opinions anonymously they did take that chance."
Not long after this time, Stuart found the LGBTQ Youth Space, a resource center for lesbian, gay, bisexual, transgender, queer and questioning youth and young adults ages 13 to 25. A staff member from the Youth Space was the first non-binary adult Stuart had met.
"The power and importance of queer and LGBTQ people coming together and providing for our own is huge, creating a space that is so vibrant and energetic where people can thrive and learn about themselves," Stuart says.
Other than learning about Bayard Rustin in U.S. history junior year, Stuart has no recollection of classroom lessons about other LGBTQ leaders. Rustin, a civil rights leader and advisor to Martin Luther King, Jr., practiced non-violent protests and worked to advance rights for the African American and LGBTQ communities.
"Being a queer person in a school, anything that is said [about LGBT figures] really stands out," Stuart says. "It's so different having these subjects in a classroom setting."
Stuart will soon attend West Valley College to study in the Women and Gender Studies program. College has often been the first place students begin to learn about sexuality and LGBTQ issues, but that's about to change.