10 Years After Katrina, New Orleans' All-Charter School System Has Proven a Failure - In These Times
:
10 Years After Katrina, New Orleans' All-Charter School System Has Proven a Failure
Test scores tell one story, and residents tell another. A three-month investigation by In These Times reveals the cracks in the education reform narrative.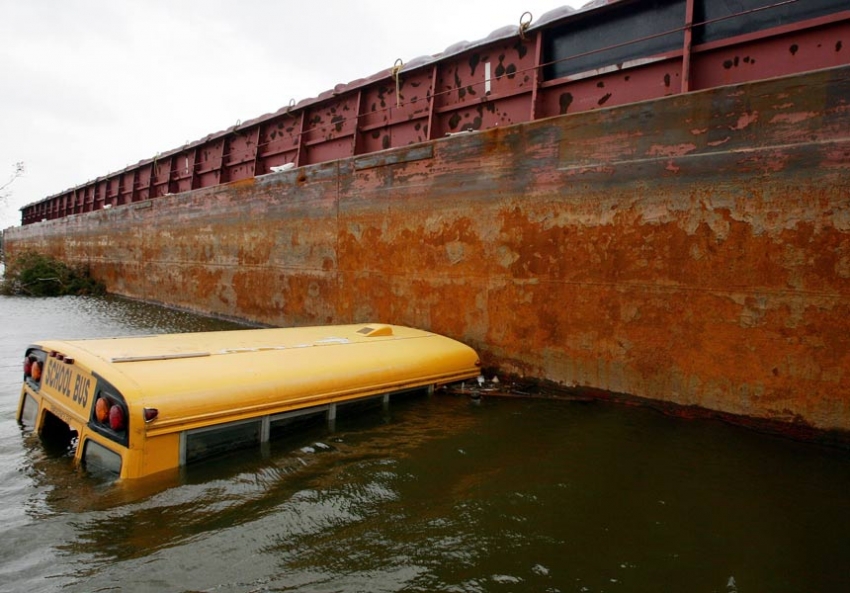 On Sept. 24, 2005, in New Orleans' Lower Ninth Ward, a school bus is submerged in post-Katrina flooding. Half of the city's public school infrastructure was damaged beyond repair. (Photo by Ethan Miller/Getty Images)
Ninth grade was nothing like what Darrius Jones expected. Jones, 14, imagined that with high school would come more independence. Instead, he felt like he was being treated like a kid. "You had to sit a certain way," he recalls. "You couldn't lean, or have your chair back." Jones says he stepped out of line once—an actual line on the floor of the hallway, which students were supposed to follow—and was sent to detention.
It was the beginning of the 2012 school year, and Jones was in the first class of students at Carver Collegiate Academy, a brand-new charter school in New Orleans' Lower Ninth Ward. Like a public school, it is funded by taxpayers and open to anyone. But as a charter, it is managed independently by a board of directors that can do its own hiring and firing, write its own policies and teach according to its own philosophy. In the case of Carver Collegiate, that philosophy is one of "no excuses"—strict rules and swift discipline.
Carver is part of New Orleans' Recovery School District (RSD), the first all-charter school district in the nation. In the chaos after Hurricane Katrina, Louisiana opted to completely overhaul the city's failing public schools by putting them on the open market. Ten years later, cities and states around the country have embarked on their own charter-school experiments and are watching New Orleans closely, laser-focused on outcomes.
Test scores have improved, according to two major reports that examine academic achievement over the past nine years. On Katrina's 10th anniversary, RSD is being held up as a national model. The graduation rate has risen from 56 percent to 73 percent. Last year, 63 percent of students in grades 3-8 scored basic or above on state standardized tests, up from 33 percent.
But by other measures, the RSD suffers.
In These Times
received an advance copy of research conducted for the
Network for Public Education (NPE)
by University of Arizona researchers Francesca López and Amy Olson. The study compared charters in Louisiana, the majority of which are in New Orleans, to Louisiana public schools, controlling for factors like race, ethnicity, poverty and whether students qualified for special education. On eighth-grade reading and math tests, charter-school students performed worse than their public-school counterparts by enormous margins—2 to 3 standard deviations.
The researchers found that the gap between charter and public school performance in Louisiana was the largest of any state in the country. And Louisiana's overall scores were the fourth-lowest in the nation.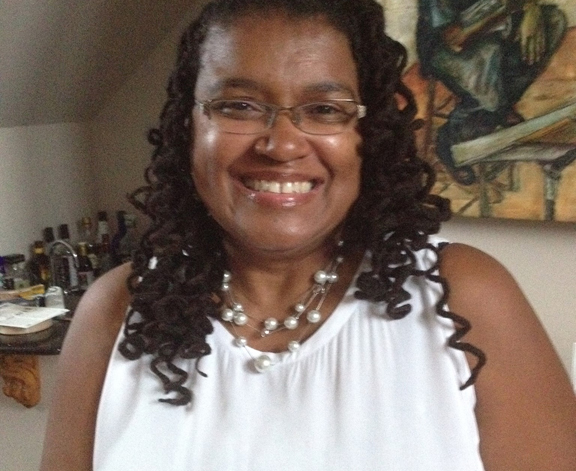 Karran Harper Royal was pleased to be invited to join a citizens' committee in 2006 to plan for the future of New Orleans schools. But she soon became disillusioned, convinced that the state didn't really want citizen input—it already had a plan and was simply seeking approval.