Chester Finn Tries to Sell Charter Expansion Without Mentioning Hedge Funder and Billionaire Cash | deutsch29
:
Chester Finn Tries to Sell Charter Expansion Without Mentioning Hedge Funder and Billionaire Cash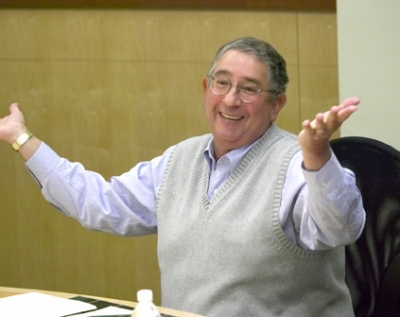 Chester "Checker" Finn
On September 05, 2016, former Fordham Institute president Chester Finn and others published an opinion piece entitled, "Charter Schools Are Reinventing Local Control in Education" in the Wall Street Journal. In order to read the entire piece, one must have a WSJ subscription, which is good in this case since it limits the audience exposed to this propaganda.
Here is how the Finn et al. op-ed begins:
America's devotion to local control of schools is dying, but it is also being reborn as a new faith in charter schools. These independently operated public schools—nearly 7,000 across the country, and counting—provide a much-needed option for almost three million youngsters in 43 states.

As students return to school, the enterprise responsible for educating them is changing in ways that few people are aware of. Charters are fomenting a quiet revolution in governance in public education.
As one might expect, the remainder of the op-ed downplays the attendant corruption and mismanagement of under-regulated charters, the funneling of public money out of the public purview, the damage caused by charter churn (i.e., the opening, and closing, and opening of charter schools). Finn et al. deflect any thought that there are any political motivations tied to charter expansion, and, as one sees in the opener above, they try to tell the public that "local control of schools is dying" because the public wants it that way.
And as for that "quiet revolution," well, it apparently needed the protection of Washington DC-based Center for Education Reform in the form of a $100,000 contestspurred by HBO personality John Oliver, who strongly criticized charter schools onhis August 22, 2016, segment.
As for the Finn et al. op-ed's landing in WSJ: Wall Street is already keen on charter school expansion, as this May 2016 Moyers and Company piece entitled, 'How Hedge Funders Built the Pro-Charter Political Network," notes:
Not too long ago, school board races were quaint affairs. Even in big school districts, candidates usually only had to raise a few thousand dollars to compete.

But as the movement to marketize public education gained momentum, advocates broadened their focus from the federal level to state and local governments. There, where campaign costs were substantially lower than in federal elections, the well-funded movement could more effectively leverage its political money.