NYC Public School Parents
:
MORE ON THE COLLEGE BOARD'S EVASIONS AND LIES ABOUT COLLECTING AND SELLING YOUR CHILD'S PERSONAL DATA
College Board officials belatedly responded to Cheri Kiesecker's post describing their practice of collecting and selling personal student data without parental consent –and and their response is included at the end of her article in yesterday's Washington Post Answer Sheet.
Interestingly, they did not deny that they sell students' personal data – or in their words, "license" the data for a fee to institutions, for-profit corporations, and the military.
You can see how they admit this on their website — at the cost of 42 cents per name. Selling this data is a violation of law in many states including NY and Colorado, and also a violation of the Student Privacy Pledge, which the College Board has signed.
And despite their claims to the Washington Post that "When students take the SAT and PSAT, the proctor instructions make clear that some items on the questionnaire are optional, and they may skip if they prefer not to answer," nothing could be further from the truth.
First, there is nothing on the student answer sheet to let students know which questions they do not have to answer.
And if you read the script for proctors, as specified in the 2017 PSAT supervisors manual, on pp. 10-12, you can see how evasive, confusing and ambiguous are the instructions that are supposed to be read aloud to students.
After asking students to fill out their (obligatory) names and addresses, this is what the proctor is then supposed to say: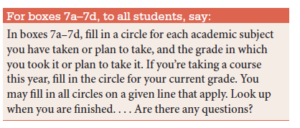 There is nothing in this script indicating that providing information about high school course work is purely voluntary and may be shared with third parties for a fee.