This District May Close All Of Its High Schools, But It's About Much More Than Money : NPR Ed : NPR
:
This District May Close All Of Its High Schools, But It's About Much More Than Money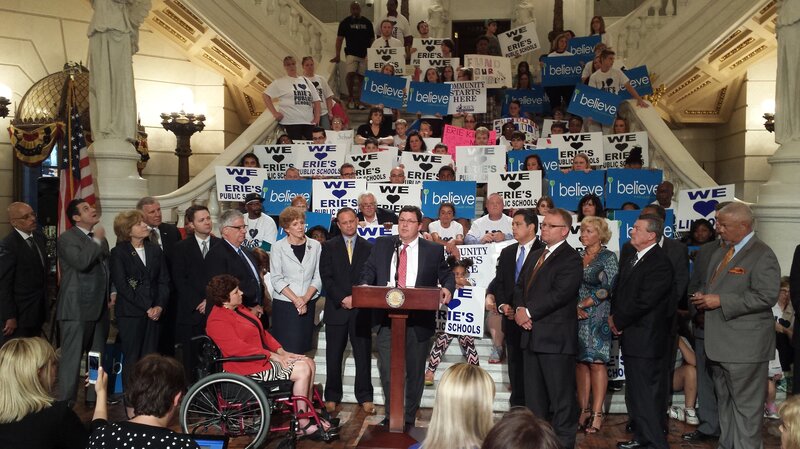 Superintendent Jay Badams leads a coalition of students, parents, educators, and community members at the state capitol in Harrisburg, Pa., urging state lawmakers to alter policies that have left Erie's public schools on the brink of insolvency. Kevin McCorry/WHYY
In northwest Pennsylvania, along the edge of Lake Erie, you'll find the city of Erie.
There, the superintendent of the more than 12,000 student district has forwarded a plan that's causing a stir — calling for leaders to consider shutting down all of the district's high schools and sending students to the wealthier, whiter, suburban districts.
Superintendent Jay Badams says it's a "matter of fairness."
Erie's schools have been pushed to the brink after six years of deep budget cuts, and he believes the children in the city's district — which predominantly serves students of color — are being systematically shortchanged.
That's in part because urban school districts in Pennsylvania face a particularly brutal logic.
Even though Erie is one of the most impoverished districts in the state, and has one of the highest percentages of English language learners, the district currently receives less per-pupil funding from the state than hundreds of other districts.
Excluding pension costs, per-pupil spending in Erie is less than it was in 2008-09.
"If our students would need to attend schools in other districts in order to have some sort of equity, then that may end up being the most ethical and moral decision," Badams says.
The signs of Erie's fiscal distress would be hard for students to overlook.
"There's a perception out there that kids living in poverty, kids living in the inner-city, don't know what they're missing," Badams says. "Well, they do know what they're missing."