Stop CC in MI respectfully request President-elect Trump to "drain the swamp" and pull the plug on Betsy DeVos | Stop Common Core in Michigan
:
Stop CC in MI respectfully request President-elect Trump to "drain the swamp" and pull the plug on Betsy DeVos
We, the leadership team at Stop Common Core in Michigan, respectfully ask President-elect Donald Trump to immediately remove Betsy DeVos's name from consideration as Secretary of the Department of Education. We do not make this request lightly but with considerable knowledge regarding her negative influence in Michigan as a proponent of Common Core.
Michigan turned red for Trump for the first time since the 1980's. A large number of voters in Michigan were attracted to the Trump campaign because of his emphatic message against Common Core. Michigan voters know that most Republicans in our state say they are against Common Core but do nothing to stop it. We believed Trump would be a different kind of Republican and "drain the swamp" in education. We believed that until the nomination of Betsy DeVos. DeVos is part of "the swamp" in Michigan. She represents both a special interest AND as an influential Republican fought EVERY effort to stop Common Core in Michigan with her money and political influence.
We respectfully submit that Betsy DeVos's recent claim that she is against Common Core is not an accurate representation of her actions regarding Common Core or the competency-based centralized education system the standards help build from prenatal to career. We have done our "homework" as she encouraged; we support our claim with the following reasons:
1. Betsy DeVos funds and serves on the board of the Great Lakes Education Project (GLEP).
DeVos founded GLEP in 2001 and served as chair until 2008; she currently serves as a board member. GLEP is a special-interest education political action committee. One of the stated priorities of GLEP is "implementing" and "maintaining" Common Core "high standards" reform. The GLEP document "The Conservative Case for Common Core" clearly articulates their support of Common Core. No retraction has been issued. Only after President-elect Trump nominated DeVos for Secretary did she attempt to distance herself from the pro-Common Core position of organizations such as GLEP. She wrote on her very new web page Q & A,
"Have organizations that I have been a part of supported Common Core? Of course. But that's not my position,"
DeVos cannot distance herself from GLEP and their position that easily. As a founder and major donor, DeVos's mission IS GLEP's mission. Now that the standards are implemented in Michigan, GLEP's mission is to maintain the so called "high standards" and build the assessment and accountability framework around them.
2. Betsy DeVos and GLEP are lobbyists for Common Core.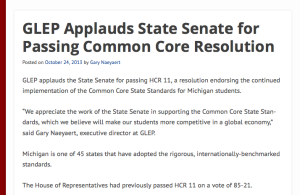 DeVos is a business woman who advocates for education reform in Michigan. DeVos and GLEP lobbied the Michigan legislature to implement and maintain Common Core and related reforms. Former MI State Representative, now State School Board member-elect, Tom McMillin recently spoke to our team about DeVos and her claim that she is against Common Core. McMillin, a strong opponent of Common Core, recalled that in 2013 DeVos specifically told him she was for Common Core during the very contentious legislative debate to stop implementation. With the help of DeVos and GLEP, resolution (HR-11) was abruptly passed through the Senate on a voice vote. The hasty vote allowed Common Core to continue. GLEP publicly applauded the resolution and the continued implementation of Common Core.