Differing views on charters and vouchers | Harvard Magazine
:
What the Public—and Teachers—Think About School Choice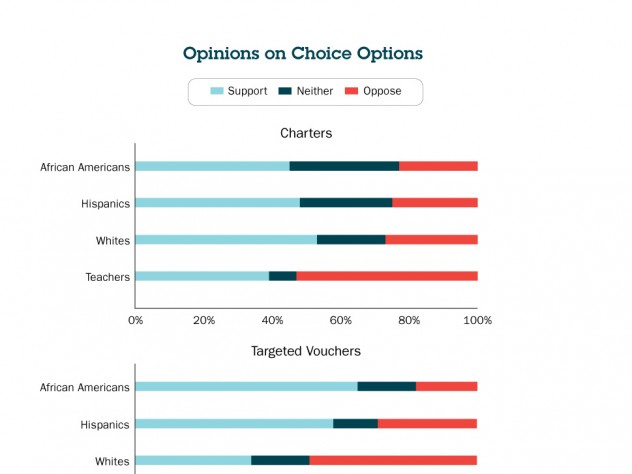 AN
NUALLY
since 2007,
Education Next,
a journal of opinion and research about education policy, has asked a representative sample of U.S. adults for their opinions on a range of education policies. The design provides for a sampling of teachers and African American, Hispanic, and white adults large enough to allow for reasonably precise estimates of the opinions of these groups. Presented in the accompanying figure are the levels of support observed in June 2015 for three types of school choice: charter schools; vouchers for low-income students; and vouchers for all students.
As can be seen, a majority of teachers are opposed to all three of these forms of school choice. By contrast, African-American, Hispanic, and white members of the public as a whole all favor charters by a roughly two-to-one margin. However, blacks and Hispanics are considerably more likely to favor school vouchers than are whites. If vouchers are targeted to low-income families, 66 percent of African Americans and 58 percent of Hispanic adults favor them, but only 33 percent of whites do. If vouchers are made available to all students, white support increases to 41 percent with 43 percent opposed (the remainder taking a neutral position), but it still trails black and Hispanic support by a considerable margin.
(For a full discussion of the
Education Next
survey, see Michael B. Henderson, Paul E. Peterson, and Martin R. West,
"The 2015 EdNext Poll on School Reform,"
Education Next
[Winter, 2016], pages 9-20. Paul A. Peterson served as the journal's editor-in-chief until July 1, 2016, when Martin R. West, an associate professor at the Harvard Graduate School of Education, succeeded to that post.)
Differing views on charters and vouchers | Harvard Magazine
: