California youth leaders rally for police and education reforms | Inquirer Global Nation
:
California youth leaders rally for police and education reforms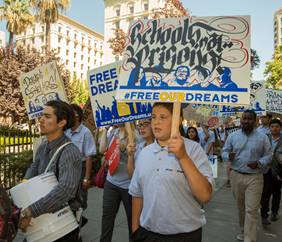 Youth from all over California marching around the Capitol before the Free Our Dreams rally on the West steps of the State Capitol on August 8. CONTRIBUTED
SACRAMENTO, California – Over 400 youth leaders rallied on the steps of the State Capitol steps Monday, August 8, demanding end to police abuse and calling for better schools.
Participants of the #FreeOurDreams rally urged policymakers to pass legislation demanding police accountability, ending the criminalization of youth, and promoting safe and successful schools. The rallyists represented the California Alliance for Boys and Men of Color
Though seventy percent of California's youth are of color, persistent inequalities in the criminal justice, immigration and education systems have kept them locked up or locked out of opportunity, rally organizers said.
Following the rally, the participants made over a hundred visits with their local representatives to discuss solutions for justice, health, safety and the success of young people of color.
"Today is about allowing and cultivating the youth voice and making it sing, and having it be heard in the halls of power, where the legislative policy decisions are being made," said Assemblymember Rob Bonta (Dem-Oakland), who, along with Assemblymember Reginald Byron Jones-Sawyer, Sr. (Dem-Los Angeles), chairs the Assembly Select Committee on the Status of Boys and Men of Color.
The rally was preceded by the Assembly Select Committee on the Status of Boys and Men of Color annual progress hearing, where youth leaders from Southern, Central and Northern California gave feedback on the programs and policies supported by the Alliance for Boys and Men of Color related to health, education, employment, juvenile justice, and safety.
Santa Ana youth David Celedon told the committee how a typical high school fight left caused his expulsion and forced him to attend remedial school just because police wrongly labeled the fight a "gang-related incident."
Now Celedon is trying to remove this gang association and seal his record before he turns 18. "I am in fear that I was put into a gang database," he told the committee, referring to a secret tracking system that allows police to label youth a gang member without their knowledge and with little recourse to contest the allegation. Celedon spoke in support of AB 2298, one of many bills being considered this week, which would bring due process and transparency to this secret database.
Assembly Select Committee on the Status of Boys of Men of Color Chairs, Rob Bonta, the first Filipino American member of the State Legislature (left) and Reginald Byron Jones-Sawyer Sr. (right), addressing youth questions. CONTRIBUTED
The Select Committee was established by Assembly Speaker John Perez in 2011. It has partnered with the Alliance for Boys and Men of Color to hold hearings across the state, collecting testimony from more than 2,000 youth, community members, government officials, researchers,] and policy experts about problems, community-led solutions, and policies the state could enact to improve outcomes for its boys and young men of color. The testimonies helped form an action plan with 67 policy priorities, many of which have subsequently been introduced as bills and become California law.
"We need to renew our vows to our black, brown, and [Asian Pacific Islander] youth," Assemblymember Jones-Sawyer said during the select committee hearing. "As parents, neighbors, voters and policymakers, the greatest gift [we can give them] is ensuring access to success."
The August 8 hearing also gave state agencies—including the Departments of Health & Human Services, Labor & Workforce Development, Corrections & Rehabilitation, and the Board of State and Community Corrections—the opportunity to testify about


Read more: http://globalnation.inquirer.net/142600/california-youth-leaders-rally-for-police-and-education-reforms#ixzz4H24XoJPG
Follow us: @inquirerdotnet on Twitter | inquirerdotnet on Facebook