The Fiscal Abandonment of Chicago Public Schools: What it Says about our Nation
:
The Fiscal Abandonment of Chicago Public Schools: What it Says about our Nation
Recently, principals across CPS notified their staff to brace themselves for a 40% budget cut, delivering a further devastating blow to our students and to educational equity. In Springfield, lawmakers remain at odds in deciding on a budget and have entered into a special session, leaving our students and schools in jeopardy. Governor Rauner has pushed the burden of funding back on the city of Chicago by proposing over $70 million less funding to CPS. Nationally, lawmakers in Washington D.C. have done little to ensure that pre-K through 12 education is equally funded. CPS has become an orphaned district that is a microcosm of what's wrong with the funding of our nation's public schools.
Decisions at the local level are as difficult to come by as those at the state legislature. In our most desperate of times, the city of Chicago has not diverted TIF money to CPS; rather, in recent years, Mayor Emanuel has pushed our city to invest TIF funds to promote tourism in odd ways. The basketball stadium in the South Loop which is supposed to support DePaul's Basketball programs, comes to mind as DePaul is located on the north side of Chicago and is a privately funded university. These types of initiatives are taking precedence over the use of additional funding for our schools.
The majority of U.S. school funding comes at the state and local levels which can vary from state-to-state and district-to-district. Yet we are often taken aback when we see data that shows American students falling behind their peers academically when compared to students in foreign countries. According to
the Pew Research Center
, American 15-year-olds rank 35th out of 64 countries in math and 27th out of 64 countries in science. Might this be because we are fiscally abandoning students in our poorest communities locally, regionally, and nationally as we continue to hold them to international standards? Why aren't we leveling the playing field by providing all American students with equal funding across the nation?
This year marks the 62nd anniversary of Brown v. the Board of Education, which declared that "separate educational facilities" are "inherently unequal." This was a case based on race, but it now resonates with socioeconomic class as students in poverty are receiving separate funding and often educational facilities of lower quality than their peers in the middle and upper classes. According to
a recent report from NPR
, school districts and/or parents are suing thirteen states across the
The Fiscal Abandonment of Chicago Public Schools: What it Says about our Nation
: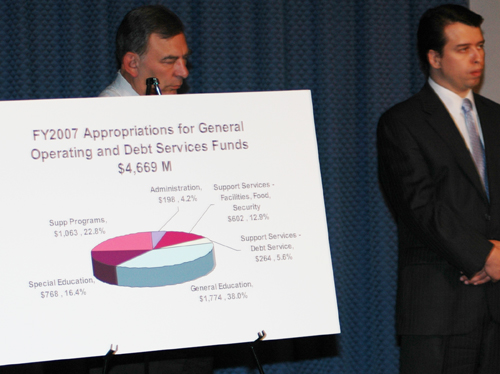 Big Education Ape: CPS Budget lies and budget liars - Substance News -
http://bigeducationape.blogspot.com/2014/07/cps-budget-lies-and-budget-liars.html