Eleven Texas school boards ordered to the classroom | The Texas Tribune
:
Eleven Texas school boards ordered to the classroom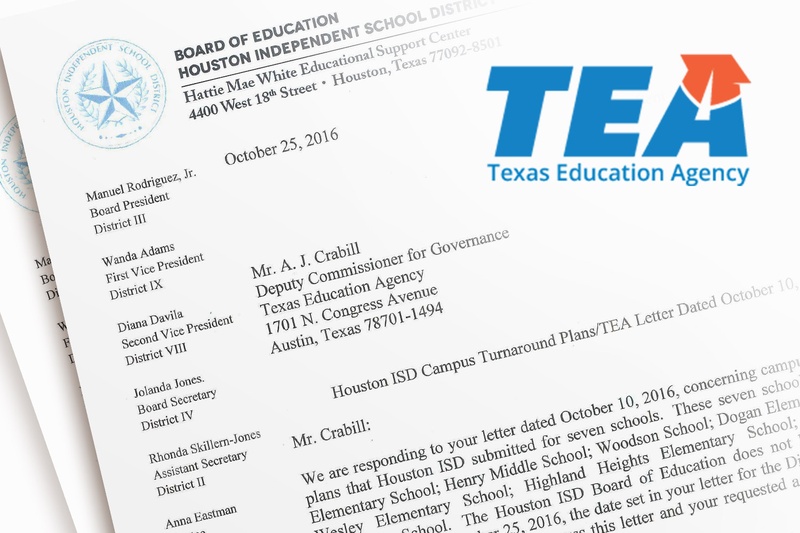 Houston ISD trustees admonish TEA for delaying campus turnaround plan implementation. Graphic by Todd Wiseman / The Texas Tribune
The superintendents and elected school boards of 11 Texas districts — including Dallas, Houston and Fort Worth — have been ordered by the state education agency to attend two-day training programs to learn how to fix their failing schools.
Deputy Commissioner of Education A.J. Crabill sent letters to the 11 school boards Oct. 10 saying they need additional governance training because their districts submitted unsatisfactory plans for turning around floundering campuses. All 11 superintendents and boards have agreed to the training, with several members expressing frustration about what they saw as an unfair and vague request.
The letters were sent about two months after TEA
released
2016 accountability ratings showing that 467 campuses statewide — including 42 in the targeted districts —
were labeled "improvement required," a decrease from 603 campuses last year. The notices were sent to Brazosport, Corpus Christi, Dallas, Fort Worth, Hearne, Houston, Lubbock, Midland, Nacogdoches, Tyler and Waco.
State law requires districts to submit detailed plans in the spring to fix problems at schools labeled "improvement required" for two or more consecutive years. The districts are supposed to include parents and the community in drafting the proposed fixes.
Morath has the final say on approving the plans — by mid-to -late June, according to a TEA timeline — so districts can start implementing them the following school year.
But for the 11 school districts, that implementation will have to wait until board trustees and superintendents attend a two-day, 24-hour governance training session.
In the letters, Crabill said he wasn't sure the plans the districts submitted would address problems — including low test scores, low graduation rates, high dropout rates, and poor college readiness — within two years. The training sessions will help trustees identify and fix weaknesses in their plans, the letter said.

If Morath decides not to approve a plan, he can replace the board of trustees, replace the principal of a school or shut the school down completely, Crabill wrote.