Study Shows Students of Color Are Disproportionately Affected by School Surveillance - The Atlantic
:
When School Feels Like Prison
A new study shows that campuses with larger populations of students of color are more likely to use harsh surveillance techniques.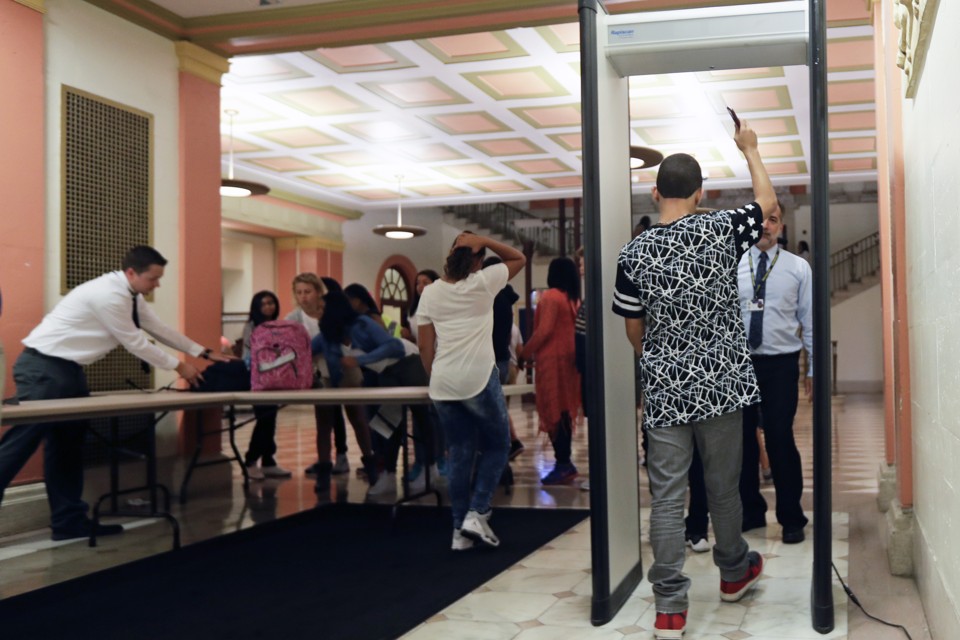 In December 2012, a Senate subcommittee was convened to examine the school-to-prison pipeline, a national trend in which overly punitive school discipline policies push students out of school and into the criminal-justice system. Among the witnesses at the
first-ever congressional hearing
on this issue was Edward Ward, at the time an honor-roll student in his sophomore year at DePaul University and a recent graduate of Orr Academy on the West Side of Chicago. He offered an eye-opening
first-hand account
of his high-school experience. "From the moment we stepped through the doors in the morning, we were faced with metal detectors, X-ray machines, and uniformed security," said Ward, describing a
high-poverty, majority-black
campus "where many young people … feel unwelcome and under siege."
Far from an aberration, what Ward depicts—public schools serving primarily black and other nonwhite students that rely on more restrictive security—is quite common, according to a
new research paper
from Jason P. Nance, an associate professor of law at the University of Florida Levin College of Law. Nance set out to find if there was a proliferation of school security following highly publicized school shootings like the
tragedy at Sandy Hook Elementary School
in Newtown, Connecticut. He discovered that many schools had intensified their security and surveillance of students, but the practice was not equally applied. Rather, schools with a preponderance of students of color within the school building were more inclined to adopt strict surveillance practices—metal detectors, locked gates, security cameras, random sweeps, and school police.
In the first empirical analysis of its kind, Nance gained authorization to access a restricted database from the U.S. Department of Education—the School Survey on Crime and Safety conducted in 2009-10 and 2013-14—to examine school security methods pre- and post- the Newtown school massacre. He found a clear and consistent pattern, even after controlling for a host of variables that might explain the presence of stricter student surveillance, such as school crime, neighborhood crime, school disorder (disciplinary or behavioral problems on campus), and other student demographics and school characteristics.
"After controlling for all those things, I still found that the concentration of students of color was a predictor of whether or not schools decided to rely on more intense [security] measures," said Nance, referring to black, Hispanic, Asian, and Native American children. "I questioned why that was [and] it seemed like race was playing a factor in these decisions."
His research carefully documents the degree to which race influenced surveillance decisions. Nance used logistic regression models—a statistical method for analyzing a dataset—to predict the odds of a school using a particular combination of security options. The study suggests that as the portion of students of color in the school increased, so did the odds that the school would rely on more intense surveillance methods. In schools where students of color accounted for more than half of the student body, the probability of the school using a mix of metal detectors, school police and security guards, locked gates, and random sweeps was two to 18 times greater than at schools where the nonwhite population was less than 20 percent. "Schools with higher concentrations of [students of color]," he concluded, "are more inclined to rely on
Study Shows Students of Color Are Disproportionately Affected by School Surveillance - The Atlantic
: