Costs of Teach for America - Substance News
:
The true cost of Teach For America... Millions of dollars are being wasted by urban school districts paying TFA its 'finder's fees'
[Editor's introduction. This stunning analysis from The American Prospect should close the book on the two decades of hypocrisy coming from the ruling class and the massive dollars behind Wendy Kopp and "Teach for America." We are reprinting it here as soon as it came to our attention so that our readers can begin to challenge more aggressively the immense costs of TFA not only in Chicago, but wherever TFA is still hustling. George N. Schmidt, Editor, Substance].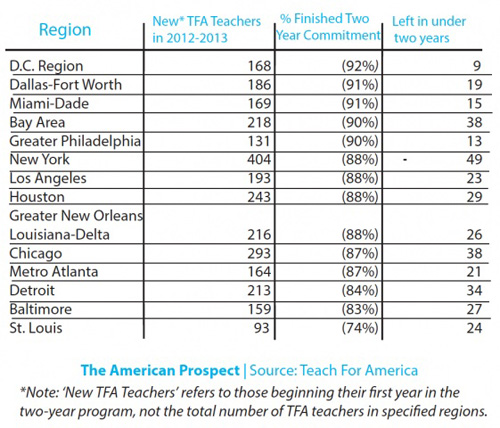 Teach for America is really not providing long-term solutions to the public schools of America's cities, but in fact has become a training ground for the bureaucrats who will staff boards of education and politicians. TFA has been training the cadre of corporate "school reform," not teachers for the children of America's cities. Rachel M. Cohen/The American Prospect from TFA data
The True Cost of Teach For America's Impact on Urban Schools
Why are school districts paying millions in "finder's fees" to an organization that places people without education degrees to teach in urban schools—even where applications from veteran teachers abound?
In debates over education policy in urban school districts, few topics are more contentious than the role played by Teach For America, the national organization that recruits elite college graduates to teach in low-income urban and rural schools for two years. It is not uncommon to hear veteran teachers, who majored in education and often have advanced degrees, complain that their profession is diminished by what they see as a preference for TFA recruits who did not study education. Parents are heard to question the qualifications and commitment of TFA's novice educators, given the assumption that their sign-up for a two-year stint suggests only a fleeting interest in teaching. And both veteran teachers and parents sometimes bemoan the fact that the racial and ethnic make-up of the TFA corps rarely matches that of the students they are assigned to teach. Advocates maintain that Teach For America provides well-educated teachers in areas where recruitment is difficult.
Here Rachel M. Cohen, writing fellow at The American Prospect, explores another area of controversy in the Teach For America program: the start-up costs of hiring a TFA teacher, and the program's impact on the retention of veteran teachers. -- The Editors
When public school districts hire teachers from Teach For America, they pay a greater upfront cost than if they hire traditional entry-level teachers. This is because TFA charges finder's fees for every "corps member" they supply. In addition to the salary and benefits school districts pay each teacher, districts also must pay the national organization, typically between $2,000-$5,000 per corps member, per year. Though generally overlooked, these finder's fees are salient to many of the key issues in the national debate over TFA's harm and benefit to public education.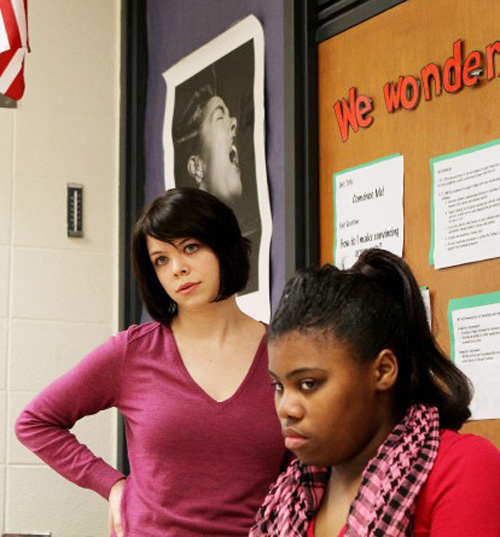 In a 2/4/2011 photo, Erin Gavin, a TFA teacher, listens to students during a group discussion with 7th-graders at a Brooklyn Center School in Brooklyn Center, MN. In 2013, MN Governor Dayton vetoed an item that would have granted $1.5 million to TFA, AP Photo/Andy King,

To put the finder's fees in perspective: If one city's TFA cohort, consisting of 200 corps members, comes with an annual finder's fee of $4,250 for each teacher recruited from the organization—then that cohort's two-year commitment will cost the district an additional $1,700,000 in dues to the organization. This is not a trivial sum for school districts experiencing massive budget shortfalls. The TFA hiring contracts are generally non-refundable, even if a teacher turns out to be a serious problem or quits early. Takirra Winfield, the national spokesperson for TFA, says that while the organization has a "pretty clear" no-refund policy in its contracts, there have been some cases where TFA has made exceptions, such as providing a credit to the district for the upcoming year, or giving regional teams discretion as to whether to invoice districts for teachers who leave early.
Teacher retention
Finding excellent teachers who are willing to stay and work in low-performing schools—typically located in high-poverty areas—has been a challenge for school districts across the nation. As a result, the teachers most frequently sent into high-poverty school districts are young novice instructors who are more likely than more seasoned
Costs of Teach for America - Substance News
: