How America's Past Shapes Native Americans' Present - The Atlantic
:
How America's Past Shapes Native Americans' Present
A Minneapolis community seeks to counteract centuries of federal policies that have put its people at a disadvantage.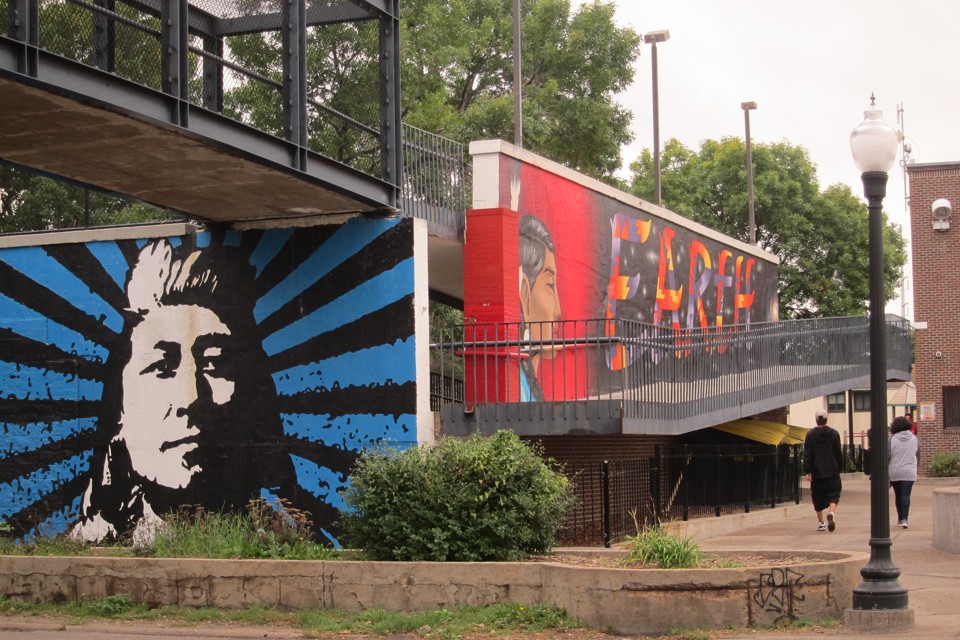 A mural outside of Minneapolis's Little Earth of the United Tribes, the only federally-subsidized housing project for Native Americans
MINNEAPOLIS, Minn.—Native American poverty doesn't fit the image many may have of life on secluded, depleted reservations. Most Native Americans

now live in cities

, where many are still trying to adjust to urban life; as a group, Native Americans face

a 27 percent poverty rate

and are still trying to reverse some of the lasting effects of federal policies that have put them at a disadvantage for hundreds of years.

The Indian Relocation Act of 1956 was the impetus for the relocation of the large number of Native Americans now living in urban areas. Though the act didn't force people to leave their reservations, it made it hard for families to stay by dissolving federal recognition of most tribes, and ending federal funding for reservations' schools, hospitals, and basic services—along with the jobs they created. Though the federal government paid for relocation expenses to the cities, and provided some vocational training, urban Native Americans faced high levels of job discrimination, and few opportunities for job advancement.
Minneapolis was one of the first cities chosen for the federal relocation program. Here, the Native American community has taken some bold steps to aid integration, such as opening public schools tailored to Native American students' needs and maintaining the country's only federally subsidized housing project for Native Americans. In the 1970s, Minneapolis became the headquarters of the national American Indian Movement, a civil-rights group. Among other achievements, it pressured the federal government to restore tribal recognition and sovereignty.

The group was working to undo hundreds of years of federal policy that has played a role in producing modern-day Native American poverty. Two early such policies were the forced relocation of Native Americans to reservations and the creation, in 1824, of the Bureau of Indian Affairs. Later that century, there was a movement to "civilize," or assimilate, Native Americans, and the Bureau created federal boarding schools, where Native American children were separated from their parents and only allowed to speak English and play sports that had European origins. According to Carolyn J. Marr, an anthropologist and a librarian at Seattle's Museum of History and Industry, the schools sought to "eradicate all vestiges of their tribal cultures."

In the 1930s, these boarding schools began closing after an independent evaluation revealed that students were malnourished and living in poor, overcrowded conditions. Eventually, Congress decided that assimilation would work better, and encouraged Native Americans to leave reservations and move to cities—hence the Indian Relocation Act of 1956, which ended federal recognition of most tribes. Though civil-rights movements in the 1960s would eventually pressure the government to restore the recognition of dozens of tribes, the impact of earlier policies remained; the Bureau of Indian Affairs remains the legal steward of most tribal lands, making it extremely difficult for Native Americans to own property and build wealth in the way other Americans can.
As a result of the Indian Relocation Act, Minneapolis also became home to a tight-knit Native American community, with a majority from Minnesota's large Ojibwe and Lakota tribes. Native Americans now make up 7 percent of residents in the Phillips neighborhood in the southern part of Minneapolis, which is also the city's poorest neighborhood—about 48 percent of people there live in poverty. It's home to the Minneapolis American Indian Center, the Native American How America's Past Shapes Native Americans' Present - The Atlantic

: