Have Obama's Education Policies Weakened The Democratic Party?
:
Have Obama's Education Policies Weakened The Democratic Party?
"I wanted kids who could be critical thinkers. They just want kids who can work at Walmart and the other big corporations that give them money."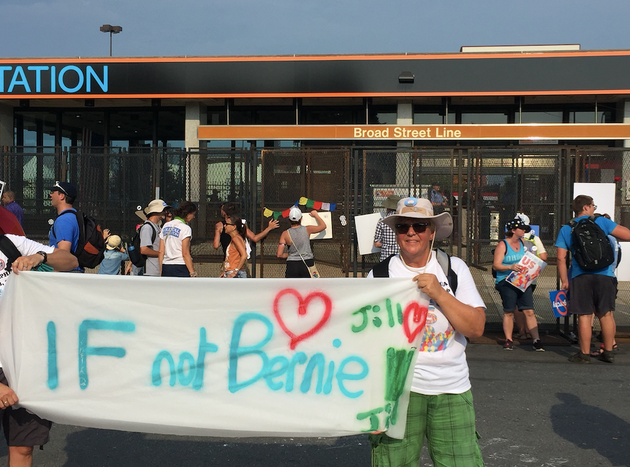 During the Republican and Democratic conventions, The Hechinger Report will publish a new story each day, examining what the party proposals might mean for the future of education. Our staff reporters will provide education coverage from Cleveland and Philadelphia.
PHILADELPHIA — Are you better off now than you were eight years ago? For the Philadelphia Federation of Teachers (PFT), the answer to this perennial election question has to be a resounding 'no.'
Over the last decade and a half, the union — which represents the city's public school teachers, nurses, counselors and support staff — has been nearly halved, its ranks shrinking from 21,000 to 11,000. Come election time, that means 10,000 fewer members to go door to door campaigning, 10,000 fewer people paying union dues to finance political ads and get-out-the-vote efforts.
While teachers unions have long played a key role in getting Democrats across the country into political office, the PFT's decline is the result of bipartisan policies.
Over the course of President Barack Obama's eight years in office, a coalition formed among his administration, governors, many of whom are Republican, and big city education reformers. Together, they doubled down on former Republican President George W. Bush's education policies,
pledging to turn around
long-struggling urban school districts like Philadelphia's by holding schools accountable for their students' test scores. If results didn't improve, officials could tap federal funds for turning around schools, to either close a school or transform it into a privately operated, publicly funded charter school, the vast majority of which employ non-unionized staff. The Obama administration also, through its Race to the Top program, increased federal funding to promote the expansion of charters and
touted charters like Mastery, Philadelphia's largest charter network
.
Now,
a third
of Philadelphia's public school students attend charter schools and the union has withered, in a state that will be a key battleground this November. In Ohio, another key state,
three in 10
public school students now attend charters in Dayton and in Cleveland. As the Democratic Party gathers in Philadelphia for its convention this week, an open question is whether Obama's education policies weakened a key element of the party's political machinery — and whether Hillary Clinton, the presumptive presidential nominee, will continue those policies.
Despite the PFT's huge membership losses, Hillary Linardopoulos, the legislative representative for the PFT, says that she doesn't think of her union as weakened, but energized in the face of threats.
"It's not that we have been weakened, but we have been under constant action," said Linardopoulos. "Look at what was happening in my classroom; I realized that I needed to become more politically active, got engaged in the political battle against [Pennsylvania's former governor, Republican Tom Corbett's] reelection bid … And it wasn't just me, our members saw so clearly what he had done to their working conditions and our students' learning conditions."
Linardopoulos points to recent Democratic victories in state and local elections as proof that PFT still is an important player.
"We fought to get a really progressive mayor, who campaigned on our platform of community schools," said Linardopoulos. "Our members spent evenings and weekends making phone calls and knocking doors."
"What I'm most proud of is our membership getting Helen Gym elected," she added, referring to a local progressive activist who won a seat on the city council last year. "And thanks to the work of Helen and rank-and-file teachers, education has become an issue that has defined recent election cycles. We had well over
Have Obama's Education Policies Weakened The Democratic Party?
: