Voucher pitch unfair | Editorials | www.journalgazette.net
:
Voucher pitch unfair
Choice supporters' event leaves out public schools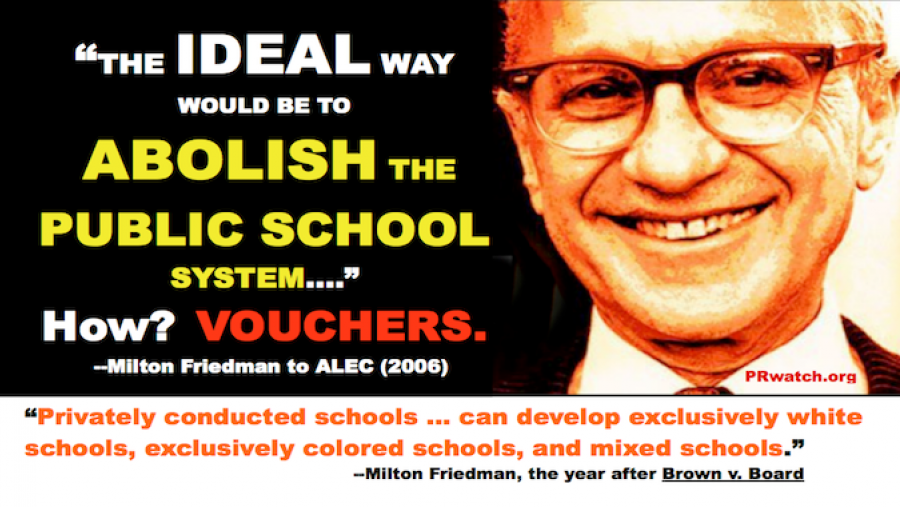 There are no school vouchers in conservative Texas, where religious leaders stand firm in support of public education. Pastors for Texas Children was organized to counter school privatization efforts, including vouchers or any policy that diverts public money to private or church use.
In Indiana, however, the Friedman Foundation for Educational Choice commands the voucher discussion. It was the muscle behind the state's 2013 voucher law, which Friedman representatives undoubtedly will trumpet at a Thursday evening event at Eddie Merlot's. Northeast Indiana business and legislative leaders are invited to dine over the foundation's pitch for taxpayer support of private and parochial schools. Friedman is host for the event, along with the Northeast Indiana Regional Partnership, the Regional Chamber of Northeast Indiana and the Dekko Foundation.
Public schools serve 89 percent of Indiana students, but they won't be represented Thursday night. As with many voucher presentations, this one is behind closed doors and aimed at an influential group.
"It is important for our organization to be informed about initiatives that will or do impact our region," wrote Regional Chamber Executive Director Vince Buchanan when asked about the organization's role. "As such, it seems logical that we would invite our stakeholders to participate in an opportunity to learn more about the issue. The Regional Chamber has not endorsed any position other than one to be informed."
John Sampson, president and CEO of the Regional Partnership, said the event was an opportunity to learn about "talent-related initiatives."
"Not everything we do does everyone agree with," he said, "We still need to take positions to be better informed on this region."
But regional business and legislative officials won't be well-informed by the Friedman Foundation's one-sided case. Since they didn't bother to invite any public school representatives or advocates, we'll offer some points certain to go unmentioned:
• Choice "scholarships" diverted about $115 million from Indiana public schools this year and added more than $40 million in K-12 costs.
• There is no savings. While the per-pupil payments to voucher schools are less than the average per-pupil tuition support for public schools, vouchers increasingly are awarded to families who always intended to send their children to religious schools. They represent an additional cost to taxpayers, not a reduction in an existing expense.
• The 316 voucher schools overwhelmingly have a religious affiliation.
• In spite of its original billing as an escape route for students in "failing" public schools, more than half of Indiana voucher students have never been enrolled in a public school, and voucher payments flow to schools also labeled as failing by the flawed A-F school grading system.
• Friedman board member Fred Klipsch has donated more than $300,000 to voucher-friendly candidates and organizations since 2010. In a 2013 address to the Catholic Business Exchange, he boasted of his political action committee raising $1.2 million to elect GOP majorities to control redistricting and set the stage for the voucher bill.
• While Friedman's opinion poll showed 69 percent of Hoosiers support vouchers, Ball State University's well-respected Hoosier Survey found support for private-school vouchers and charter schools at just 39 percent. Fifty-eight percent prefer their tax dollars go to public schools.
If the Regional Chamber and Regional Partnership truly want their stakeholders to know about Indiana schools and choice, they would be wise to include educators responsible for teaching 89 percent of the state's students. They might not have the means to host a discussion over prime steaks, but they certainly can offer a broader perspective.
Voucher pitch unfair | Editorials | www.journalgazette.net
:
Hoosier School Heist TV is Doug Martin's channel featuring videos of his book tour across Indiana speaking on the corporate takeover of public education. Order Hoosier School Heist at http://hoosierschoolheist.com/.