The Educated Reporter: EWA Webinar for Journalists: Adding Teachers' Voices to School Reporting
:
EWA Webinar for Journalists: Adding Teachers' Voices to School Reporting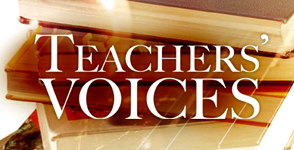 When I was an education beat reporter, I spent a lot of time in August at office supply stores. Over the years I discovered this was fertile territory for meeting teachers as they re-stocked their classrooms for the coming academic year. Away from the hubbub of a union vote or school board meeting, the conversations I had struck up strolling the aisles of bulk copier paper and hand sanitizer were often enlightening - and usually less harried than the ones squeezed in during a school board meeting or contentious vote at the union headquarters.
Talking to teachers isn't just a technique for amplifying a story's impact - it's a vital component of thoughtful education reporting. On Tuesday, EWA will host a
journalists-only webinar
looking at innovative ways of connecting with classroom educators. Our presenters are Melissa Bailey (New Haven Independent); Molly Bloom (StateImpact Ohio); and Erin Richards (Milwaukee Journal-Sentinel). We'll also get a New Haven teacher's perspective on what it's like to interact with reporters, and he'll share some tips for making the most of those interviews.
"Adding Value: Giving Teachers a Voice in School Reporting"
will be held at 1 p.m. EDT. Space is limited, so I suggest you
register today.
Have a question, comment or concern for the Educated Reporter? Email EWA public editor Emily Richmond at erichmond@ewa.org. Follow her on Twitter: @EWAEmily.