Teacher Strike Wave: By the Numbers | Labor Notes
Teacher Strike Wave: By the Numbers
Five percent of all U.S. workers in K-12 public education walked out on strike this spring. It's by far the biggest spike in teacher strikes in a quarter-century.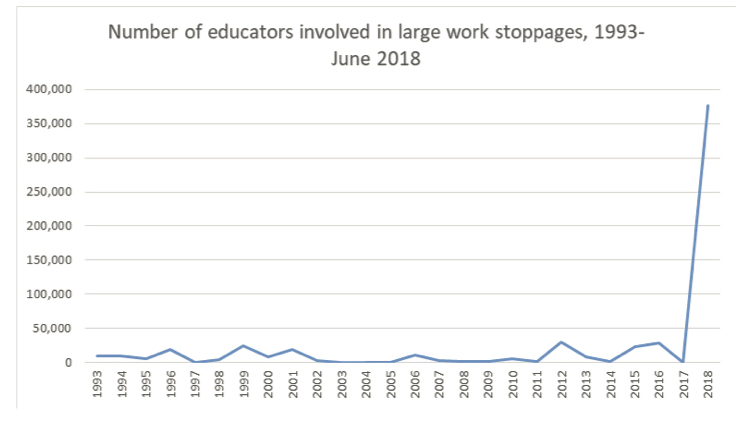 The strikers included educators from North Carolina (123,000), Arizona (81,000), Colorado (63,000), Oklahoma (45,000), West Virginia (35,000), Kentucky (26,000), and Jersey City (3,600).
These figures come from the Bureau of Labor Statistics, which tracks "work stoppages" (strikes and lockouts) involving 1,000 or more workers and lasting one or more shifts. The agency gathers its data from public news sources, such as newspapers and the Internet.
The data for January to June of this year show that 376,800 K-12 public educators participated in big strikes. We didn't include a higher-education strike by 53,000 AFSCME members at the University of California. Continue reading:
Teacher Strike Wave: By the Numbers | Labor Notes