Nite Cap EXTRA
EXTRA

EXTRA

EXTRA

EXTRA
Marching in Chicago: Resisting Rahm Emanuel's Neoliberal Savagery
Monday, 20 May 2013 10:16
By Henry A. Giroux, Truthout | Op-Ed
Across the globe, predatory capitalism spreads its gospel of power, greed, commodification, gentrification and inequality. Through the combined forces of a market driven ideology, policy and mode of governance, the apostles of free-market capitalism are doing their best to dismantle historically guaranteed social provisions provided by the welfare state, define the accumulation of capital as the only obligation of democracy, increase the role of corporate money in politics, wage an assault on unions, expand the military-security state, increase inequalities in wealth and income, foster the erosion of civil liberties and undercut public faith in the defining institutions of democracy.
1.
As market mentalities and moralities tighten their grip on all aspects of society, democratic institutions and public spheres are being downsized, if not altogether disappearing. As these institutions vanish - from public schools to health-care centers - there is also a serious erosion of the discourses of community, justice, equality, public values and the common good. One does not
"What's happening at Crenshaw is representative of the death of the large, urban comprehensive high school all across the country." — Dana Goldstein
From the organizers:
If you have time to attend one after school thing for the remainder of the year, May 28th in support of Crenshaw, has to be that event. This will be a student led event, co-sponsored by CEJ, Community Rights Campaign, Sierra Club and Schools LA Students Deserve. The event should gain major media attention, and is part of our grassroots and legal strategy challenging LAUSD on this destabilizing attack upon one of our schools.
Event will be at Brotherhood Crusade at 5415 Crenshaw.
Campaign: Door-to-Door With Monica Ratliff - LA School Report: Post navigationCampaign: Door-to-Door With Monica Ratliff Posted on May 20, 2013 by Hillel Aron **Going door-to-door in the Sunland section of the East Valley one evening this past weekend, District 6 School Board candidate *Monica Ratliff*'s pitch to voters goes something like this: "Hi, my name is Monica Ratliff. I'm a teacher, and I'm running for the Board of Education. Do you have any questions or concerns about the school district?" Most voters are startled by this; it's unusual for a politician to ask voters for ad...
more »
May 20, 2013, 2:28 p.m.
Opposing sides debate whether yoga program in Encinitas is religious.
The vote was 44-29. It was quite a compelling and civil discussion. I'll write a wrap-up of it tomorrow but I'll leave you with two thoughts.
1) Will this spur other schools to consider this action? Hard to say but one person who is a member of two PTAs said her other PTA is also considering this action. Will it be like Garfield's early and firm stance on MAP and allow other schools to take a look at what is happening at their school?
2) There were several issues in play but one broad issue is this:
What is the purpose of a parent-teacher group at a school?
Do you want a combo of school-based needs with big group identity/advocacy? Is one more important than the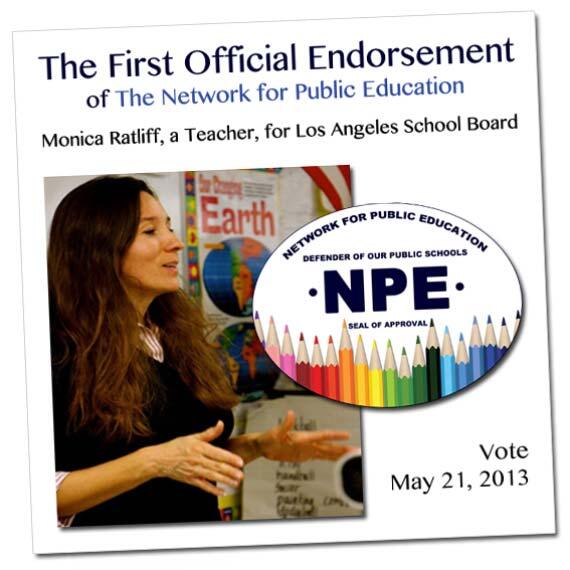 Please send your thoughts, good karma or prayers to the citizens (and parents) of Moore, Oklahoma.

The tornado today went right thru two elementary schools killing at least seven children. A high school nearby also got hit. There are still children missing. The schools - and nearly everything else in the area - were leveled.