Rise Above the Mark Film Excerpt - Indiana Funding - YouTube
Rise Above the Mark Film Excerpt - Indiana Funding
"The film is fantastic. It's simply astonishing that it was produced by public school educators. Public education is under attack and this film is proof."

- Diane Ravitch
Public Education for all children!
Rise Above the Mark is a documentary narrated by Peter Coyote that brings to light the heartbreaking realities of public education. It's the story of what happens when politics enters the classroom.
Public schools are boxed in by current corporate reforms. Rules and regulations restrict vision, depreciate funding, demoralize teachers, and turn students into test-taking machines, robbing them of time to foster creativity.
Rise Above the Mark focuses on Indiana's struggles with public school reforms—the same types of struggles experienced in schools throughout the United States.
Experts Diane Ravitch, Linda Darling-Hammond, Pasi Sahlberg and others discuss how America can make positive changes to provide an exceptional public school system for all children.
Rise Above the Mark Film Excerpt - Indiana Funding - YouTube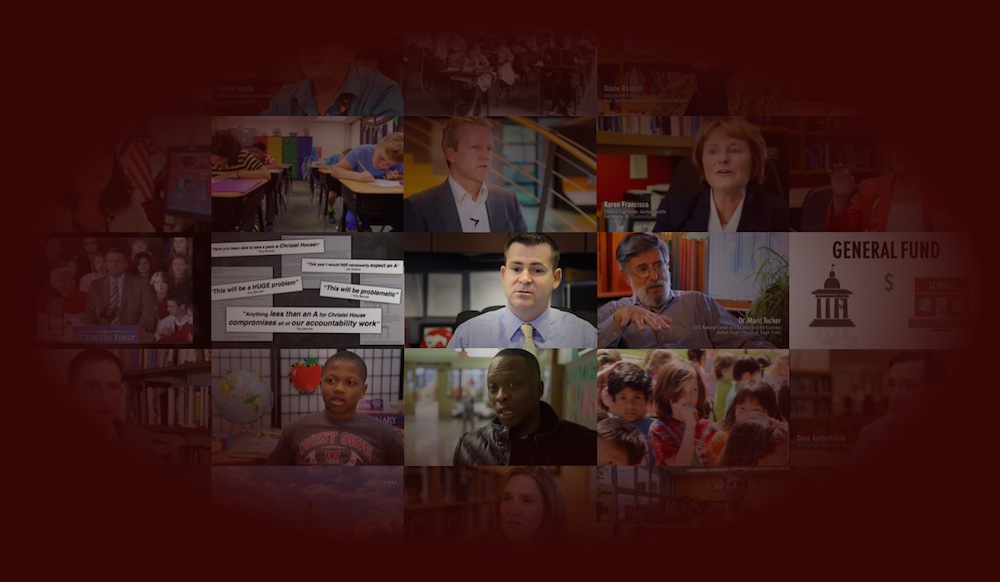 A Film About

Public

Education!
Rise Above The Mark, narrated by actor Peter Coyote (E. T., Erin Brockovich, The Roosevelts: An Intimate History) gives a glimpse inside America's classrooms and the struggles teachers and students experience as increased legislation, standardized testing, and the subsequent elimination of the arts create rote learning and heartbreaking time constraints. Few hours remain in the school day for creative instruction and individualized study.
Rise Above The Mark is a documentary for parents, teachers, school administrators, and taxpayers who care about providing a quality education for all students. Rise Above The Mark sparks a much-needed conversation.
Featuring scholars and experts in public education
Dr. Diane Ravitch

, outspoken education historian and former U.S. Assistant Secretary of Education, expresses what she thinks is wrong in public education today and how our children are the ones suffering.

Dr. Linda Darling Hammond

, the Charles Ducommun Professor of Education at Stanford University, talks of the latest studies regarding education reform.

Dr. Marc Tucker

, President and CEO of the National Center on Education and the Economy, discusses the effects of education reforms on the economy.

Dr. Pasi Sahlberg

, Director General of National Centre for International Mobility and Cooperation in the Ministry of Education in Helsinki, Finland, gives insight on one of the world's most successful public education systems.

Mr. Jamie Vollmer

, author, speaker and supporter of public schools offers insight as a former businessman and critic of public schools.

Dr. David Hummels

, Purdue University economist, explains in laymen's terms the complicated web of school funding in Indiana through engaging graphics.
Host a Showing! Spark a conversation.
FAQ
Interested in hosting a showing of Rise Above The Mark in your town? Choose an option below that best fits your situation and fill out the form. You may add multiple showings to your cart.
We strongly encourage that you make your showing big! Team up with neighboring schools/organizations to put on an event that really sparks a conversation about public education. Questions? info@riseabovethemark.com
https://riseabovethemark.com/