Seattle police pepper sprayed a teacher who was walking and talking to his mom
:
Seattle police pepper sprayed a teacher who was walking and talking to his mom
A Seattle-area high school teacher who was pepper-sprayed by police at a rally on Martin Luther King Jr. day has filed an intent to sue the city and its police force for $500,000.
Jesse Hagopian, a well-known social justice advocate who teaches at Garfield High School, a public school in Seattle, Washington, filed the notice of tort claim against the City of Seattle and the Seattle Police Department over the incident, which was captured on camera and shared on YouTube this week.
The city has 60 days to respond.
In the video, Hagopian — in the brown jacket — can be seen calmly walking in front of a line of Seattle police officers while talking on his phone. As he passes them, a female officer, waving a can and yelling "Step back! Step back!" to no one in particular, hits him with a blast of pepper spray.
Here's that moment: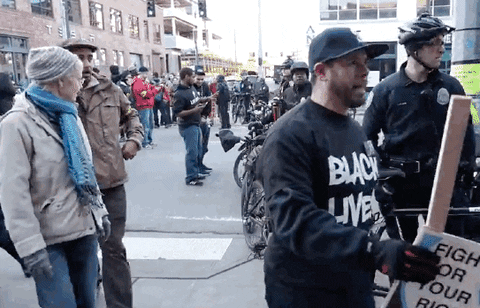 Hagopian had just finished giving a speech at King County's annual Martin Luther King, Jr. celebration about how black lives matter and was on the phone with his mother when he was pepper-sprayed, his lawyer, James Bible, told Mashable. They were discussing plans for his two-year-old's birthday party that was scheduled later that day.
"His eyes begin to burn, his nostrils began to burn, he felt pressure in his ear and he had difficulty breathing," Bible said, adding that the teacher spent most of the afternoon washing his eyes out with milk. The party was canceled. Hagopian's six-year-old was said to be deeply concerned.
"Thankfully someone caught it on video and now everyone can see what happened," Hagopian wrote in a
Facebook post
after the incident.
In
another post
he added: "The milk has helped a lot and I'm beginning to feel better. Wish we had a better world."