For Police-Free Schools: The Loving Communities Response Fund for Racial Justice | Schott Foundation for Public Education
For Police-Free Schools: The Loving Communities Response Fund for Racial Justice
You've seen the videos of the devastating impact of police violence against people of color in the streets. As you express outrage — and take action, we urge you to look deeper.
Look within our schools.
Help us in this critical moment to remove police from our schools.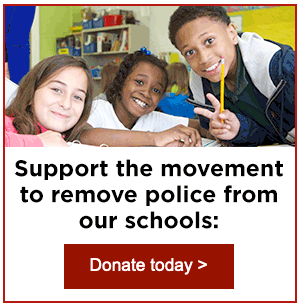 The Schott Foundation is a Black-led national public fund serving as a bridge between philanthropic partners and education advocates
to advance racial justice and to build a movement that provides all students an opportunity to learn. In response to these extraordinary times, Schott, in partnership with three national coalitions — the
Alliance to Reclaim Our Schools
,
Dignity in Schools Campaign
, and
Journey for Justice Alliance
— launched the Loving Communities Response Fund for Racial Justice to support community-led, grassroots education justice organizations responding to racial justice emergencies.
The Loving Communities Response Fund for Racial Justice
deploys funding and technical support to communities to ensure that the people and organizations most impacted by an extraordinary moment have the capacity and support to lead in the transformative moment. Our participatory grantmaking process moves resources to the people and communities most in need. In March 2020, the fund supported youth and families directly impacted by school CONTINUE READING:
For Police-Free Schools: The Loving Communities Response Fund for Racial Justice | Schott Foundation for Public Education