The Charter School Shell Game | Inweekly
The Charter School Shell Game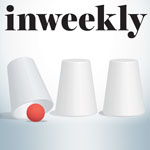 By Duwayne Escobedo
Marcus May's greed had no limits. Two 45-foot yachts. Jet ski. Maserati and Triumph cars. Multiple houses for himself and a house for his mother. Exotic trips. Rolex watch and other jewelry.
In the end, May, the founder of Newpoint Education Partners charter school, robbed the school districts of Escambia, Bay, Broward, Duval, Hillsborough and Pinellas counties for a grand total of $5,216,856.15, according to court documents.
For his scheme to defraud school systems and support his celebrity-like lifestyle, May was recently sentenced to 20 years in prison and ordered to pay back all the money he stole as well as $93,357.73 in court costs.
May wore handcuffs and an orange Escambia County Jail jumpsuit and showed no emotion throughout the court proceeding and during his fingerprinting. His Orlando defense attorney, Joseph Flynn, raised no objections.
Escambia County Assistant State Attorney Russ Edgar Jr. admonished the 56-year-old May for jilting funds from children and taxpayers.
"The education of our young shouldn't be taken away for pure greed," Edgar said in the courtroom.