Truth to Power: Facing the Disruptors with Courage and Resolve
Truth to Power: Facing the Disruptors with Courage and Resolve
We live in troubling times, reflected in the longtime attacks on one of our most sacred democratic institutions, public schools. But Americans have a fierce fighter for those schools in Diane Ravitch. The historian, in her new book Slaying Goliath, reminds us of the dangers facing schools, but also the hope we have in a resistance movement that has fired up across the country.
It is on this which we can rely, and there's no better way to learn how to be Davids then by reading the history of this resistance, how it came to be, and where it's headed.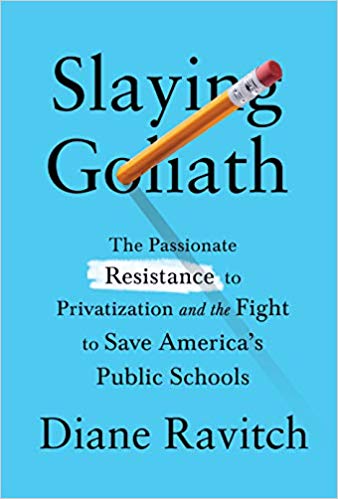 The resistance movement involves teachers, parents, and students from across the country, marching in the Red for Ed movement against the reforms that are damaging their schools. It includes bloggers and authors who passionately expose the troubling attacks on our public educational system.
Diane is a master weaver showing how this resistance is ever evolving. She names names and explains how billionaires steal local control of public education.
She calls those who seek to do harm to this institution, "disruptors," scoffing at their use of the words "status quo."